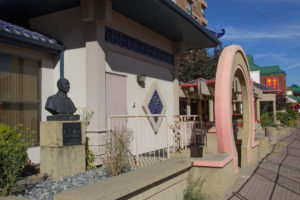 16 EDMONTON CHINATOWN MULTICULTURAL CENTRE (1985) & CHINATOWN CHINESE LIBRARY (2009)
---
The Multicultural Centre marks Edmonton's "Replaced Chinatown" along with Toi Shan Society and Alberta Kaiping District Association. The first "Old Chinatown" dates back to the pre-World War I period and was a male-dominated Chinese immigrant community. The second Chinatown developed here in the 1980s when Old Chinatown succumbed to new developments. New Chinatown took shape during the influx of Chinese and Vietnamese migrants who arrived in the 1980s and established businesses further north on 97 St. (104 Ave.), creating a mosaic of wider Asian cultures.
The city's first Chinese settler, Mr. Chung Gee, opened a laundry at Jasper Ave. and 97 St. in 1890. Despite a federal head tax that increased from $50 in 1885 to $500 in 1903, Chinese immigrants kept coming to escape poverty, floods, and wars. By 1911, the population had grown to 1,787 in Alberta and a small Chinatown emerged along Namayo Ave. (97 St.) where rents were low.
Although Canadian pop culture re-tells stories of opium dens in Chinatown, the vast majority of the Chinese were trying to settle within the law. Without a welfare system or basic Canadian citizen rights until 1947, Chinese family clans and associations formed such as the Chinese Nationalist League, Gee Society, Wong's Benevolent Association, and Mah's Society to provide each other support and solidarity in the face of discrimination and exclusion. They provided care for members who were sick or elderly, helped resolve disputes, promoted the welfare of members and helped members adjust to Canadian society.
In both the First and Second World Wars, select provinces accepted Chinese Canadians to serve. Chinese residents supported the Canadian war effort by selling and purchasing war bonds. After the northern government of China joined the First World War in 1917 in support of the Western allies, 84,000 Chinese labourers were transported to the battlegrounds in Europe where they laid tracks for railways, repaired roads, loaded cargo, and cleaned up the battlefields.
In 1923, the Canadian Immigration Act further excluded Chinese immigration to Canada. During the 30s and 40s, Chinatown lost much of its population, businesses, and societies. When the law was repealed in 1947, the population began a slow process of recovery.
Today the Chinese Benevolent Association of Edmonton (1929), a non-political, non-religious umbrella group, has more than 200 individual members and works with over 40 clan and district associations, athletic and social clubs, and cultural and heritage groups. The CBA has played a major role in the Chinatown redevelopment here since 1977.
Sources: City of Edmonton (McCauley, Then & Now: A Walk Through One of Edmonton's First Neighbourhoods, 2013), Jenny Clayton, City of Edmonton, Lan Chan-Marples (Personal Communication, July 2016)
Photo Credit: Ester Malzahn