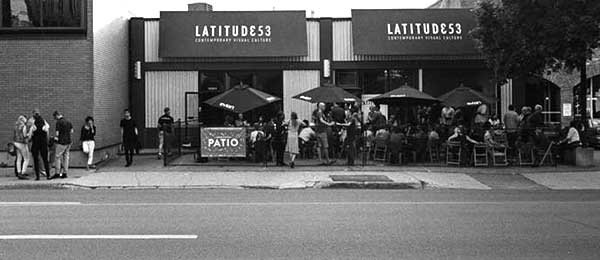 Location: 10242 – 106 St., Hours T – F 11AM -7PM T-F & SA 12-5pm
Free Admission
Latitude 53 is Alberta's leading contemporary art centre that:
Animates and promotes thought provoking local, national, and international visual art,
Stimulates artistic research and education, audience engagement, and experimental art practices, and
Provides a supportive environment for artists taking risks.
Founded in 1973 by a collective of Edmonton artists, Latitude 53 is a not-for-profit artist-run centre. Latitude 53 provides a non-coercive environment to assure the freedom of the artist, and give the public access to new art forms. It supports the research and development of new artistic practices and concepts, and encourages experimentation by artists through diverse programming. While experimentation in visual culture is the emphasis of the work that Latitude 53 facilitates, it seeks to support work in a variety of disciplines, to become a locus for experimental culture.