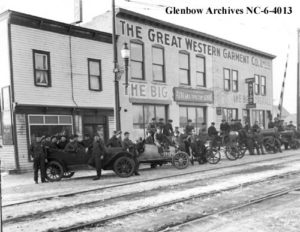 25 CALEDONIAN DEPARTMENT STORE | GREAT WESTERN GARMENT CO. (GWG) | ARMY & NAVY STORES, 1911
---
Built as the Caledonian Department Store in 1911, this commercial building at Namayo Ave. and Clara St. was converted into a factory by Great Western Garments (GWG) in 1914, and then expanded.
Founded in 1911 with only seven employees to fill a growing need for good work garments, GWG hired mainly immigrant women into a unionized workplace—at a time when jobs for all women, especially married women, were scarce! Production in the late 1920s was 12,500 garments per year, in WWII 12,500 garments per week, and by the early 1960s, 12,500 garments per day.
GWG grew to an international retailer with 1,600 employees and was the first company in Canada to use pre-shrunk denim (1920s), and make permanent press pants (1965), and invent pre-washed jeans (1972). In 1955 GWG built a new plant in east Boyle Street for the convenience of its workers. By 2004, it took 7.5 minutes to make a pair of jeans. GWG closed that year, a significant loss to the city.
In 1955 this building became an Army and Navy store under Vancouver entrepreneur Samuel Cohen, who had opened his first Edmonton store in 1928. When this site was renovated and expanded in 1968, A&N employed more than 500 people in Edmonton. This branch closed decades ago, but A&N remains an Edmonton institution.
The Red Strap Artists Market, which operated here for several years, was named after GWG's popular 1933 Red Strap brand.
Sources: Catherine C. Cole (Edmonton Public Library, Royal Alberta Museum, Canadian Museum of History), Ground Zero Productions, BC Business Magazine/timothytaylor.ca
Photo Credit: Glenbow Archives NC-6-4013