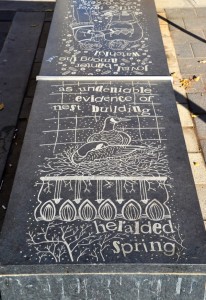 Holly Newman, Geese in the City, 2013
Location: 100 St. & Jasper Ave. through to 102 St. & Jasper Ave.
---
Holly Newman's whimsical prose and illustrations, etched into the black granite of Jasper Avenue's benches and planters, provide a delightfully creative touch to the street furniture. Evoking the grace and tenacity of Canadian geese, the 21 pieces can be enjoyed from any direction. For the purists at heart, A-K indicates the order of the artist's preferred prose.
Text from the prose for the planters:
like celebrities returning from a warm tropical vacation, they caused a commotion,
webbed feet flip, flop, flat down the sidewalk looking for the fabulous
potholes are a spring ritual; they filled with water and make perfect ponds grass and flowers, provide
many good meals (a few falling French fries are nice too)
a huff and a honk from the geese bellowed above the horns of traffic,
cities rumble with noise but a close listen reveals a symphony, of sorts
noisy geese fly overhead continuing the custom of wild things in the city,
birds of a feather might stick together but some like the city more than others
to make sure that no one went straight she kept those feet marching in a row,
young minds and explosive energy make for parenting challenges
always thinking on your feet in this busy life,
a set of speedy wings would not go unappreciated,
innovative and adaptable, these Canadians are impressive
Text from the prose for the benches:
proud ancestors of these two geese walked the avenue,
long ago it was just a winding trail from forest to fort
jovial banter among watchful office tower workers,
as undeniable evidence of nest building heralded spring
rivers, reeds and willow were their traditional habitat,
concrete planters stuffed with flowers made a very good home
all sorts of woodland friends find a place in our lovely green spaces,
metal cranes are the biggest birds that dot the sky
her warm feathery umbrella protected her babes from spring's storm,
the cold snow of May surprised us all, it's the same every year
yellow chicks flew fast to hard pavement with absolutely no worries,
someone was always close by ready to catch a fallen angel
Biography: Holly Newman received her Bachelor of Fine Arts from the University of Alberta in 1985. Since then she has exhibited extensively around Edmonton and throughout Canada. On her website, Newman writes: "Oh, the things that I have seen while walking through the city. A coyote prancing up the sidewalk from the river valley towards the city centre. A mouse struggling to climb the curb after crossing four lanes of traffic. A golden leaf falling from nowhere, landing on a guy's shoulder and resting there for half a block.
For me, small experiences like these motivate visual projects that invite the viewer to reconsider the city landscape. Unique relationships are formed in the city. Natural elements can be elevated or ignored depending on the viewer's level of distraction and inclinations. Our changing relationship with nature has evolved so rapidly that at times it seems to have disappeared. Finding remnants of the personal within the city labyrinth is my motivation in constructing projects that challenge the role of the viewer within the city landscape." 
Collection: City of Edmonton Public Art Collection
Media: Sandblasted Images on Black Granite
Sources: The Public Art Tour – The Edmonton Arts Council, Holly Newman
Photo Credit: Risa Witten