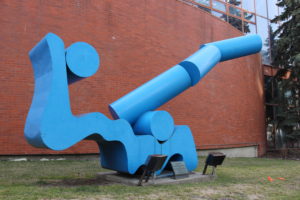 Dialogue, 1972
Location: 102 Avenue (between 99 St and 97 St)
---
Dialogue was nearly lost in the scrap pile – literally. Many Edmontonians remember this sculpture as the tall orange sculpture that sat outside College Plaza on Whyte Avenue and 111 Street for more than 20 years. When the exterior of the high-rise building was renovated in 1992, building managers decided that it did not fit into the decor, and paid $300 to have it taken away. The same managers were unaware that Leadbeater had recently sold a similar sculpture in Calgary for $100,000.
Leadbeater described the sculpture's removal as "…an act of real violence. They were barbarians at the gate. I am disappointed, but I guess that's life."
The sculpture was stored for a week before Leadbeater caught wind of the situation and purchased it for $25 cash. It was one day away from being crushed. Leadbeater eventually sandblasted it and painted it blue to suit its new location against the red brick wall of the Citadel Theatre.
Leadbeater continues: "The sculpture is going to outlive most of the people who wanted to sell it as scrap, I'm sure of that now. It's going to outlive me too. That is how it should be."
Biography: A descendant of the famous potter Josiah Wedgwood, Roy Leadbeater was born in Ashbourne, Derbyshire, England in 1928, and later abandoned by his parents. After serving in the British Merchant Navy and also as a member of the British police who helped keep peace in post-WWII Palestine, he studied drawing at the Birmingham School of Art. He emigrated to Canada in 1953 and studied drawing on a part-time basis at the University of Alberta under H.G. Glyde.
"I've always believed that some artists are like physicists – they want to know the answers behind life and are fascinated with the unknown. I'm interested in asking what life and living is all about – asking questions of the invisible world and making that invisible world visible. I'll never quit. One of the great advantages of being in the arts, or anything creative, is that you never run out of ideas. What you run out of is time." Roy Leadbeater
Sources: Roy Leadbeater, Edmonton Journal
Photo Credit: Ester Malzahn