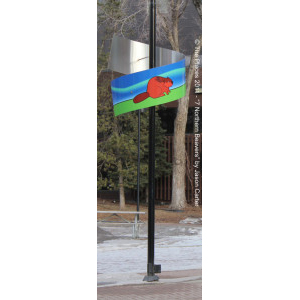 Jason Carter, 7 Northern Beavers, 2011
Location: Beaver Hills House Park at 105 St. and Jasper Ave.
---
Biography: Jason Carter is one of Canada's most exciting and accomplished contemporary Aboriginal visual artists, celebrated for both his paintings and his carvings. He was recently celebrated as 'Emerging Artist of the Year' at the Mayor's Evening of the Arts in Edmonton, and he was selected as one of Avenue Magazine's Top 40 Under 40. Carter recently completed an 18-painting series for the Art Gallery of Alberta's Travelling Exhibition Program called 'Urban Animals' which will tour Alberta for three years. He also published a children's book of the same name, 'Urban Animals'. Jason Carter is currently represented by The Bearclaw Gallery in Edmonton, Rouge Gallery in Saskatoon and The Town Square Gallery in Oakville, Ontario. In 2012, Carter opened his own gallery in Canmore, Alberta – The Carter-Ryan Gallery. Jason is a member of the Little Red River Cree Nation and he paints and/or carves seven days a week.
Project Title: Beaver Hills House Park Sculptural Banners Project
Supporting Partners: City of Edmonton, Downtown Business Association, The Places
Sources: The Places Tour – The Works International Visual Art Society
Photo Credit: The Places