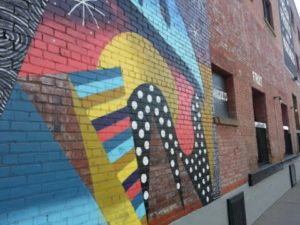 Mercer Murals, c. 2012-15
Location: Exterior North Wall of the Mercer Warehouse at 10363 – 104 ST. & Interior of the Mercer Tavern
---
Built in 1911, this gorgeous re-purposed building is now home to some of Edmonton's movers and shakers in tech and design. Grab a coffee, enjoy Mercer Tavern, Rostizado Restaurant or shop in Vacancy Hall for handmade creative goods. The Tavern hosts a mural by the infamous Edmonton graffiti artists Curly and Lizard King and the exterior mural was created by Annaliza Toledo. There's always something happening at the Mercer and it hosts special charm that only a hundred years and a handful of ghost tales can create.
Biographies: Trevor Peters – "Curly" – is an artist whose main choice of medium is spray paint. He has traveled and painted in many cities around the world. In 2013, he painted his largest mural to date, a 150 x 180 foot wall for Da Tung University in Taipei, Taiwan. As with many street artists of his generation, his style evolved from early New York City Subway graffiti art. Now, working as a fine artist, his abstract paintings are reminiscent of the raw textures found within city landscapes and explore the idea of finding beauty in decrepit environments.
Lizard King is known as Edmonton's first recognized graffiti artist. In the 1980s he painted colourful New York-style graffiti along the LRT line. His most celebrated piece was a Mickey Mouse mural from the movie 'Fantasia'. King still retains a love for the craft and paints as often as he can.
Annaliza Toledo is an Edmonton-based artist who works with Trevor Peters (aka. Curly) in their commercial and residential custom art painting business 'Fresh Canvas'. Annaliza is also well-known for her custom nail art business Nailcart, her work as a freelance wardrobe stylist, as well as a style contributor for the online magazine YEG People.
Sources: Mercer Warehouse, Peters, T. (Personal Communication, 2015/2016) and Pope, D. (Personal Communication, 2015/2016).