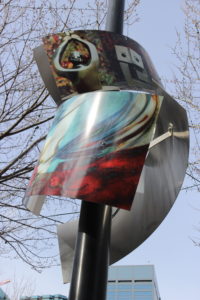 Sir Winston Churchill Square Banners, 2008
Location: Sir Winston Churchill Square (suspended on eight streetlamps on the west and east sides)
---
Canada's International Multiculturalism Day (June 27th, 2008) is permanently captured through these banners created by 13 artists from Edmonton's new immigrant, multicultural, and Aboriginal communities. The artists contributed 24 images of their artwork to create and celebrate the important milestone.
The artists are: Roger Garcia (El Salvador); Iryna Karpenko (Ukraine); Emmanuel Layila (Sudan); George Millar (Ireland); Kathleen Newman (Singapore); Babatope Omotoso (Nigeria); Pedro Rodriguez De Los Santos (Uruguay); Gabriela Rosende (Chile); Valeriy Semenko (Ukraine); Ash Shumba (Zimbabwe); Will Truchon (Canada – Cree Nation); Erika Vela Namsechi (Peru); and Xin Yu Zheng (China).
Produced by: The Places – Art & Design in Public Places Program
Sponsoring Partners: Downtown Business Association, Edmonton Arts Council, TELUS Community Board, EPCOR
Places Major Sponsors: ATB Financial, Enbridge
Sponsors: Oxford Properties Groups, Morguard Investments LTD.
Other Contribution: Ogilvie LLP, Ducor Development Corporation
Source: The Places – Art & Design in Public Places Program
Photo Credit: Ester Malzahn