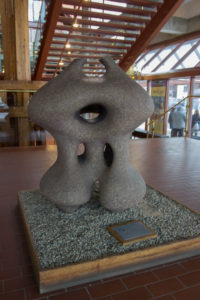 Together, 1973
Location: Citadel Theatre (interior, just inside south-facing entrance at stairwell)
---
Working mainly in clay, Charles Hilton is a modern abstractionist who lets material and form lead his artwork. Hilton has an understanding of and respect for clay that allows him to create forms that seem natural and alive. His coiled stoneware Together is now housed at the Citadel Theatre, on the stairwell just inside the south-facing entrance. In 1997 Hilton stated, "The people who live with nature – not apart – will understand the true meaning of my forms, as they really speak for themselves."
Hilton knows that many see his work as pottery while he sees it as an expression in clay that can change with time. "It is all part of my experimentation with this ageless medium, to find that ultimate union with the clay and myself. Perhaps a dream, perhaps a reality – but one I feel strongly enough about to search for – perhaps for a lifetime."
Well-known in modern sculptors' circles in Canada, Hilton was selected to choose ten artists from six countries to create a permanent collection of works commemorating the 1978 Commonwealth Games in Edmonton.
Biography: Charles Hilton was born in 1937 in Melville, Saskatchewan. He studied sculpture at the University of Manitoba (1963), after which he moved to Alberta, where he taught pottery and sculpture at the University of Alberta. In 1976, he represented Alberta at the Olympic Arts & Culture Program during the summer Olympics in Montreal. He was also founding Director of the Commonwealth Sculpture Symposium during the 1978 Commonwealth Games in Edmonton, and led several ceramics seminars and workshops in Edmonton and Calgary in the early 1980s.
Hilton became a prominent sculptor in Edmonton, his abstract work appearing in numerous solo and group exhibitions in Canada and Japan. He works mainly in clay, but has also worked in bronze, marble and wood; he considers his work as primarily expressive.
Hilton now lives in British Columbia.
Collection: Alberta Foundation for the Arts
Media: Coiled Stoneware
Dimensions: 90 cm x 40 cm x 40 cm
Sources: Saskatchewan NAC, Charles Hilton
Photo Credit: Ester Malzahn