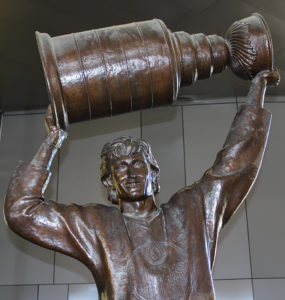 John Weaver, Wayne Gretzky, 1989
Location: Rogers Place * 10220-104 AVE Exterior on 104 ST.
---
Prolific sculptor John Weaver (1920-2012) created this likeness of Edmonton's beloved No. 99, the star who gave Edmontonians 10 years of unforgettable championship hockey before a previous team owner infamously traded him to Los Angeles. August 27, 1989, Mayor Terry Cavanagh proclaimed Wayne Gretzky Day in Edmonton, and dedicated the 950-lb bronze Gretzky outside the Oilers' previous home at Rexall Place. In 2016 bronzesmith Don Begg, who originally cast the work, gave the Great One a touch-up on its way to its new place of honour in time for the 2016-17 hockey season. There was little wear, but the statue needed cleaning: reporter Marty Klinkerberg wrote, "Everyone else treats Gretzky with great respect, pigeons not so much." The statue has long served as a place for fans to meet, take photos, and even celebrate life passages. Many wedding photos have been taken with the bronze Gretzky, and more than a few times, security officers at Rexall Place found ashes scattered his feet.
Biography: John Barney Weaver was born in Anaconda, Minnesota on March 28, 1920. Trained in fine art from an early age by his painter/sculptor/teacher father, Weaver later studied under Emil Zettler and Albin Polasik at the Art Institute of Chicago.
Following his graduation, he taught sculpture and figure drawing at the Layton School of Art (Milwaukee) and curated for the Smithsonian Institute as a Natural History Sculptor. Weaver moved to Edmonton in 1966 and sculpted numerous pieces for the 1967 opening of Alberta's Provincial Museum.
Thanks to his employment as a sculptor at both the Smithsonian Institute in Washington and the Alberta Provincial Museum, John Weaver's bronzes fill North American museums, galleries, and private and public institutions. His most famous works include life-sized bronzes of Robert Burns, Jacqueline Kennedy, Harry Truman, Charles Russell, and Mrs. Lyndon B. Johnson among others.
Weaver eventually became a Canadian citizen. He settled in Silver Creek, B.C. where he continued to create bronze sculptures until he passed away in 2012.
Media: Bronze
Sources: CBC, The Globe and Mail, Public Art – Edmonton Arts Council
Photo Credit: Susan Pointe