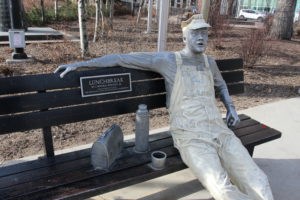 Lunchbreak, 1983
Location: Sir Winston Churchill Square (NW corner)
---
Lunchbreak is an iconic favourite for Edmontonians. Johnson Jr.'s self-described style is "ordinary people doing ordinary things" and included subjects sitting on park benches or riding skateboards. His work was often derided for its realism, but his sculptures are beloved in cities across North America. His sculptures and statues often take the viewer by surprise.
Johnson is best known for his sculptures of regular people in contemporary life situations, celebrating the simplest human acts and attitudes. Few know that the artist, John Seward Johnson Jr., was one of five siblings heir to the Johnson & Johnson medical/pharmaceutical/consumer goods empire.
Biography: John Seward Johnson Jr. was born in 1930 in New York. More than 250 of Johnson's life-size cast bronze figures have been featured in private collections and museums around the world. In addition to creating his own sculptures he also owns and operates the Johnson Atelier bronze foundry, where he has fabricated sculpture for other artists since 1979.
While Lunchbreak is a well-known and much-loved sculpture in downtown Edmonton, less well-known is Johnson's connection to the famous Johnson & Johnson pharmaceuticals company and his involvement in one of the most notorious legal inheritance battles in America. When his father died in 1983 and left nearly all of his $400 million fortune to his maid-turned-third wife (Basia), Johnson and his siblings accused Basia of coercing her husband into leaving his wealth to her. What followed was one of the largest, costliest, and ugliest will contests in American history, lasting three years with legal bills of $25 million. In the end, the Johnson children were awarded $6 million each, with Mr. Johnson receiving an additional $7 million as the trustee of his father's Florida-based oceanographic centre. The rest of the fortune remained with Basia.
Collection: City of Edmonton Public Art Collection
Sources: Edmonton Arts Council, New York Times
Photo Credit: Ester Malzahn