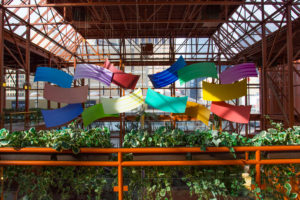 Dreamfires, 1999
Location: Citadel Theatre (interior, Lee Pavilion)
---
Banners of colour invite the visitor to look up – way up. Artist Glenn Guillet dedicated this artwork to Helen Collinson (1934-1998), the daughter of beloved Alberta painter H.G. Glyde. Helen worked for many years as a curator at the University of Alberta, and was a driving force in Edmonton's cultural community.
Guillet responds to the emotional side of art by transforming spaces with large sheets of directional fields of colour. He believes that art should move people and his mode is projecting colour. He creates complex colour schemes with complimentary muted and vibrant tones. The effect resonates psychologically and evokes a subtle shift in mood for the viewer.
Biography: Glenn Guillet moved to Edmonton in 1954 and was raised in the vibrant Garneau neighbourhood. He was exposed to art throughout his school years, winning his first art award in grade six and completing his Bachelor of Fine Arts at the University of Alberta in 1971. Since 1974, Guillet has sustained a studio practice working in Edmonton's inner city neighbourhoods.
Guillet believes in creating a small number of carefully realized and accessible artworks. He has always felt a responsibility to create art. His dedicated studio practice has lasted 42 years and counting. "I will keep making art until I run out of ideas. If I ever run out, I'll stop."
Guillet's artwork is held in both public and private collections and can be found throughout the province in various landmarks and institutions such as Edmonton's City Hall, Cross Cancer Institute, Citadel Theatre, and Athabasca University.
Donors: Abells Group Inc., John Born, Louise Elgert, Mary Fitzgerald, Jean Greenough, Stuart & Elaine Hall, Mark Morris, Joe Ochman, Tulane Rollingher, City Lumber and Millwork, Citadel Theatre, Edmonton Business Council For The Visual Arts. This is a Legacy Project of the Works Visual Arts Festival. Dedicated to the memory of Helen Collinson (1935-1998), Curator and Art Historian.
Produced by: The Places – Art & Design in Public Places Program
Source: The Places – Art & Design in Public Places Program
Photo Credit: Ester Malzahn