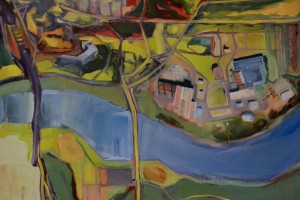 5   Micheal Cor, New Perspectives Seven, 2010
Location: Interior of Enterprise Square at 10230 – Jasper Ave., M-F 6AM-9PM, S-S 6AM-6PM

This painting is a refreshing take on a commonly painted and photographed Edmonton skyline. Cor has at least one other work in the City, at the Cameron Library on the University Campus.
Biography: Micheal Cor was raised in rural Alberta and worked for five years as an industrial mechanic in Alberta's strip-mining industry after graduating from high school. Inspired by the technical training provided as a tradesman, he entered the University of Alberta's Art and Design program with a strong thirst for knowledge and the confidence full-time work experience provides. In 2010, Cor traveled to Baltimore, Maryland, to Study Painting at the Maryland Institute College of Art.
Media: Oil and Acrylic on Canvas