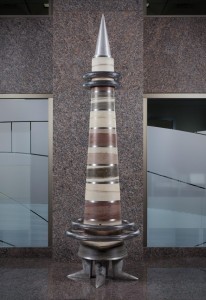 Location: Just inside the main entrance of 10405 – Jasper Ave. M-F 6AM-6PM
Sophisticated, elegant, and compelling to touch are common descriptors for the life-sized sculpture by Katie Ohe. After graduating in 1960 from Alberta College of Art, Ohe became one of the first artists to make abstract sculpture in Alberta. Today, she is known as one of the most influential artists in Alberta.
Biography: Katie Ohe was born in 1937 near Peers, Alberta. She has studied art in Calgary, Montreal, New York City, and Verona, Italy, and has taught art at the Calgary Allied Arts Centre, the University of Calgary, Mount Royal College, and at the Alberta College of Art & Design. Her sculpture is inspired by the thoughts and emotions raised by everyday experiences, and the aesthetic experience of the pieces is one of communication and sharing. Ohe has exhibited solo at the Glenbow Museum, ACAD, and the Nickle Museum, and has contributed to countless group exhibitions locally, nationally, and internationally. Her art is displayed in numerous public spaces throughout Calgary, and is held in many important corporate, private, and institutional collections. She has received awards from the Y.W.C.A. of Calgary, the Royal Architectural Institute of Canada, and the Alberta College of Art and Design.
Collection of the Alberta Foundation for the Arts